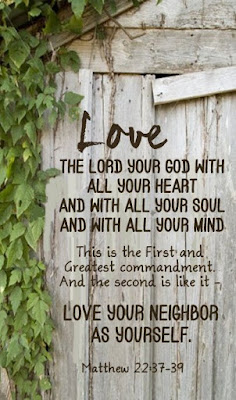 ​
When someone who claims to be a Christian can live in sin without sensing it, then something is seriously wrong. None of us (not one of us is perfect). I know we "ALL" fall short of the glory of God. But there is a difference between stumbling unintentionally and being sorry for it and living in habitual, continual sin without any pangs of conscience, guilt, or remorse. If you can live in sin without any guilt or remorse, then one must question whether you are a child of God—Greg Laurie.
This is my prayer. Let it be your prayer also...

Let Us Pray: God I ask You in Jesus' name never let me fall out of love with You. Never let me allow anyone or anything to cause our relationship to grow apart or to grow cold. God all that I have asked of You in this prayer, do the same for Ms. Linda and everyone that loves You. Let our love for You grow stronger, richer, and sweeter as the days, months, and years go by. Let us always keep You first in our lives. Thank You Jesus. Amen!
Luke 10:27(KJV) - And he answering said, Thou shalt love the Lord thy God with all thy heart, and with all thy soul, and with all thy strength, and with all thy mind…

John 14:21 (KJV) - He that hath my commandments, and keepeth them, he it is that loveth me: and he that loveth me shall be loved of my Father, and I will love him, and will manifest myself to him.

John 14:23 (KJV) - Jesus answered and said unto him, if a man loves me, he will keep my words: and my Father will love him, and we will come unto him, and make our abode with him.

1 John 2:5 (NLT)- But those who obey God's word truly show how completely they love him. That is how we know we are living in him.

1 John 5:3 (KJV) - For this is the love of God, that we keep his commandments: and his commandments are not grievous.

Romans 8:38-39 (KJV): For I am persuaded, that neither death, nor life, nor angels, nor principalities, nor powers, nor things present, nor things to come. Nor height, nor depth, nor any other creature, shall be able to separate us from the love of God, which is in Christ Jesus our Lord.

Encourager Linda Flagg, M.A., BCPCLC
Board Certified Professional Christian Life Coach